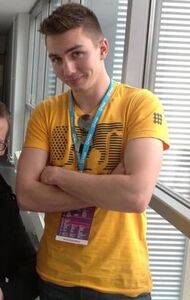 Tim Spaninks is a game designer for Critical Strike Portable and Critical Ops.
Biography
Tim Spaninks began level design at the age of 10 and has created content for video games since then. He furthered his studies at the Utrecht School of the Arts, studying game design and development.
He became involved with Critical Force Entertainment in 2012, doing level design for Critical Missions: Space. In 2013, he became a designer and producer for Company of Tanks and a designer for ISOTX's March of War.[1] In August 19, 2014, he became involved in the development of Critical Ops.[2]
References
Ad blocker interference detected!
Wikia is a free-to-use site that makes money from advertising. We have a modified experience for viewers using ad blockers

Wikia is not accessible if you've made further modifications. Remove the custom ad blocker rule(s) and the page will load as expected.