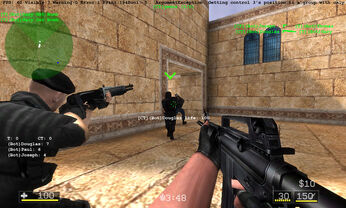 Single Player is an offline gameplay option for Critical Strike Portable, allowing the host to play with and against bots.
Gameplay
After choosing single player, the player, like in Multiplayer chooses what gamemode he or she wishes to play in. 
Unlike multiplayer, other players cannot join single player servers, since bots serve as substitutes and can be added or removed on both Counter-Terrorists and Terrorists in the game menu. Game mechanics stop completely when the player pauses the game.
Trivia
Ad blocker interference detected!
Wikia is a free-to-use site that makes money from advertising. We have a modified experience for viewers using ad blockers

Wikia is not accessible if you've made further modifications. Remove the custom ad blocker rule(s) and the page will load as expected.