This article or section is incomplete.
Some information is missing regarding to the subject. Help Critical Strike Portable Wiki by finishing the article. Remove this template when finished.

Ranks are a cosmetic game mechanic in Critical Strike Portable and Critical Ops. In the former, ranks are the positions of players determined by their kill/death ratio. These have no real gameplay advantages or disadvantages whatsoever, other than for cosmetic use.
Description
Edit
Critical Ops
Edit
Ranks are earned through played ranked matches, accessible through the main menu.
Critical Strike Portable
Edit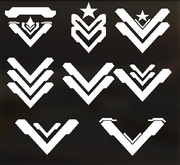 Ranks label a player's kill/death ratio, and gives a general idea on their skill. The higher the kill count than the death count the lower the rank. High ranks are determined by low numbers, so for example, the highest rank a player can attain is 1, and the lowest (and initial) rank is 64.
In order to rank up, a player must improve his/her kill/death ratio by killing players more often than dying and ranking down would be vice versa.
Ad blocker interference detected!
Wikia is a free-to-use site that makes money from advertising. We have a modified experience for viewers using ad blockers

Wikia is not accessible if you've made further modifications. Remove the custom ad blocker rule(s) and the page will load as expected.